Céad Míle Fáilte...
One hundred thousand welcomes from Máirín and Gerry Murphy to our Bed and Breakfast home in Belmullet.

Stay with us in 'Drom Caoin' and we will ensure that you will experience true Irish hospitality, award winning breakfasts, speciality coffees and free Wi-Fi, ...

:Murphy's law free zone!

Set on a gentle slope overlooking Blacksod Bay and Achill Island; you will enjoy the peace in our landscaped gardens while still only 5 minutes walk from Belmullet town centre.

'Drom Caoin' is in exactly the right place, everything good is to be found here.
Why go elsewhere?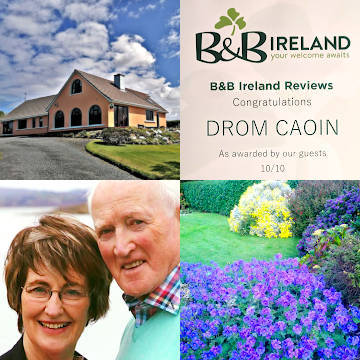 Our first guests!
"Three times in Eire - best time here! It was great to stay with you. Thank you very much!"
Hille und Tilla Sonneschein, Germany, 7th July 1977
"Fantastico - Tight lines from a happy fisherman!"
Fens Ploug Hansan, Denmark, 11th July 1982
"Two wonderful day on our honeymoon!"
Gerhard and Manuela Traum, Austria, Vienna, 1st Sep. 1995
"Merci pour l´accueil qui m´a été réservé ici, et l´année prochaine je reviens, en parlant l´Anglais"
David Delmas , France, Lozére, 16th Aug. 2004